AV Services
Gallery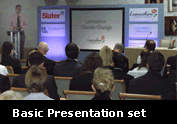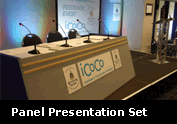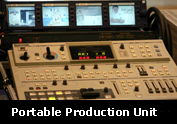 AV Facilities
& Hire
Whether you require a simple projector screen, or a fully equipped multi-camera television outside broadcast unit, we have both the facilities and expertise to ensure that your production runs smoothly from start to finish.
From our own hire stock, we can facilitate your corporate event with all that is required to ensure that your message reaches its target audience. With PowerPoint equipped laptop computers, front and rear projection screens, extensive PA and microphone combinations, lighting, stage design and presentation equipment, no job is too large or too small.
Our single camera crews are equipped with broadcast quality Sony cameras with full lighting, sound, monitoring and camera support facilities. These can be combined with our portable, flight case production unit to add live visuals to any presentation, making even the smallest occasion something extra special.
For the bigger event, our compact OB/Production vehicle will handle up to four 4x3/16:9 switchable SONY triax camera channels, with digital VT record/replay and slow motion. The vehicle has 24 channels of audio, full duplex radio talkback, CD and MD replay, broadcast graphics and autocue. Designed to be flexible and easily configured to suit live and pre-recorded broadcast and production requirements, the unit can operate from a standard 13A/16A mains supply.
We believe that you should have facilities which meet your production requirements... not ours, and we're equally at home covering action sports, or that important corporate presentation... with a production team who can handle the pressures of live television.